Starting your career
Rural and remote opportunities
Make a healthy career move
Have a passion for improving people's lives? A health career in regional, rural and remote Queensland will give you a career with purpose, plus excellent benefits and allowances.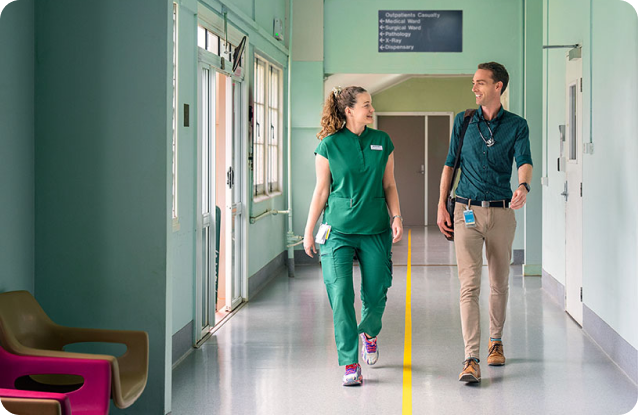 Medical recruitment campaigns
We run campaigns every year to recruit medical interns, resident medical officers (RMOs) and registrars for positions across Queensland.
Great work-life balance
Find out about your leave entitlements and watch Daniel's story about his day-to-day life as a Senior Medical Officer working in rural Queensland.
Taking the next steps in your medical career
Choosing the right specialty can feel overwhelming. Use our comparison tool and learn where your future might take you.
Dr Steven Johnston
Senior Medical Officer/General Practice Anaesthetist
Weipa Integrated Health Service
---
I love being a general practice anaesthetist (GPA). It's great to be able to support the local obstetrics service. Becoming a GPA was definitely one of the best decisions I ever made – I love the work, I love the place.
Dr Katherine Lynch
Senior Medical Officer
Longreach
---
There is so much opportunity out here. You can do more here than what you can do in the city. You come out here, you will make a difference to people's lives. You will gain skills that you would never have got the opportunity to gain and you will get to do so much. You'll experience a community that is really, truly grateful for having you here.
Dr David Walker
Executive Director of Medial Services and General Practitioner,
Central West
---
I came to the area in 2006 and loved the town, fell in love with the people, made lots of friends, and ended up staying. Rural medicine is what you make of it and I've been really lucky to get opportunities here that I probably wouldn't get anywhere else. I get to practice at the top of scope and look after patients for as long as I can.
Last updated: November 2023